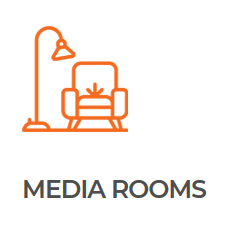 Whether your basement is already in okay shape, or it's such a complete and total mess down there you've given up and left it to the spiders, we're certain we can help out by turning your wasted square footage into a clean, pristine, state-of-the-art media room!
Some of the most important things you have to consider when finishing and remodeling basements are waterproofing, proper insulation and energy efficiency. That's because, as you may already know, most basements are naturally cold, wet spaces that for the most part stay in the dark, allowing mold and other organisms to thrive and eventually take over your space – which is not exactly an ideal environment for a media room. Our experts at Basement Finishers know better, and can easily correct these common issues and prevent future damage through the use of experience, exceptional quality materials and strategic structural planning. From floors and ceilings, to walls and windows, our team ensures every inch of you're space is effectually protected from elements, while also creating a charming media room for you and your loved ones to enjoy.
It doesn't matter if you're a music lover who wants to build your own media studio, a movie buff who wants to create the perfect personal theater, or a competitive gamer who needs a cozy space to stream your latest content for your adoring fans, we can help design a space that perfectly meets your needs. Not only will we ensure everything is watertight and protected from common basement disasters, we'll also optimize your acoustics, make sure your heating and cooling are evenly circulated for peak air quality, and that your lighting provides a natural glow that doesn't negatively interfere with your media experiences. After all, our team of expert basement finishers offers more than 70 years of combined experience overseeing commercial construction, fire restoration, water restoration, mold restoration, and HVAC experience – which means we know exactly what you need to ensure your new media room exceeds your expectations. All we need you to do is tell us what you want so get in touch with us today for your free consultation, and we can discuss interior designs for the perfect media room for you!