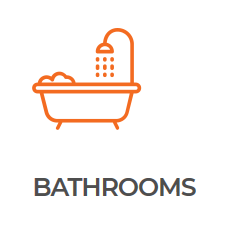 There are a million different reasons as to why you should have at least one bathroom in your basement if you, or anyone for that matter, is going to spend a lot of time down there. For starters, it's significantly more convenient than having to run upstairs every time you need to do your business. If you're an online gamer, a bathroom in your game room means you can stay close by to your controls even if you just can't hold it any longer. If you frequently have guests over and your basement is a guest suite, it simply makes more sense to give them their own private space and not force them to share facilities with the rest of your household. The bottom line is, whatever you're using your basement for, it's just more practical to have a clean, functional bathroom nearby.
When putting in a fully functioning bathroom, you have to think about long-term plumbing needs, humidity/ventilation, lighting, insulation, and more. Our fully licensed and insured team of remodelers at Basement Finishers has more than experience overseeing commercial construction, fire restoration, water restoration, mold restoration, and HVAC experience. That means, from design, to plumbing, to your personal expectations regarding aesthetic, you can rest easy knowing that our basement bathroom experts know precisely how to maximize the efficiency and value of your space for the best price without compromising quality. In addition, we offer free consultations and interior design assistance to make sure our clients know exactly what we plan to do based on what their basement allows, and how much it's going to cost before we even begin – and rest assured, we're going to do everything we can to make sure you get everything you need and want within your budget.
All in all, if you're looking for the best way to add a new bathroom to your basement, and need to ensure you choose incredibly experienced professionals who know what they're doing to complete the job right, trust Basement Finishers today. We can help you create a stunning, cost-effective, energy efficient space at a competitive price.