When it comes to finishing and remodeling basements, quality materials and meticulous execution are both paramount to ensuring the space is able to maintain its visage and value for as long as possible. Basements are naturally very cold, dark, and moist areas as it is, so making sure everything from your lighting and flooring, to your air quality and insulation, are high quality and energy-efficient is key to creating a thoroughly enjoyable space that is able to truly last for years to come.
Thankfully, our seasoned industry experts at Basement Finishers possess more than 70 years of combined experience overseeing commercial construction, fire restoration, water restoration, mold restoration, and cutting edge HVAC solutions for high-value clients, including federal buildings – which means we know exactly how best to optimize your space as cost-effectively for you as possible. In fact, we specialize in creating custom:
Bars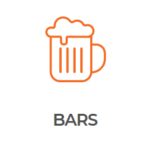 If you love to entertain and host dinner parties, turning your basement into a fully functional bar is a great way to impress your guests while simultaneously keeping the rest of your home out of reach. It's an especially great idea if you love having people over for Super Bowl parties, TV premier parties, award show parties, and more. All you have to do is tell us precisely what you want, and we'll see to it that it's everything you've ever wanted and more!
Bathrooms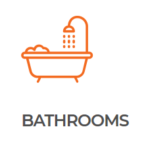 Whether you want to use your basement as a common entertainment space, or a spacious guest suite, having a bathroom down there can really complete the space. Your guests will have a place to do their business privately away from the main home, and won't have to share bathrooms with the rest of your household. Furthermore, if you're using the space as a TV/game area, you won't have to sprint upstairs between commercials and risk missing out on any of the fun!
Media Rooms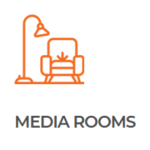 Have you always wanted to turn your drab basement into the neighborhood hangout spot? Or, perhaps you want to create a room specifically designed for watching movies together as a family? Or a man cave to ensure you're loved ones have a safe space to play video games and watch sporting events on TV while they stay out of your hair? Whatever your vision is for your ideal media room, we can make it happen!
Of course, these are just a few of the many ideas we can help you bring to life. Perhaps you want to create a one-of-a-kind workout space instead, or a playroom for your kids? With Basement Finishers on the job, the possibilities are endless. Best of all, in addition to being fully staffed and prioritizing efficiency and timeliness above all else, we're also licensed, insured, and registered in the state of Michigan – plus we have all the industry connections you need to get the best deals on the best products and materials. So please, if you're interested in a free consultation and interior design drawings to help you turn your unsightly dungeon of a basement into an elegant space you'll never want to leave, contact our incredibly reputable professionals at Basement Finishers today!